Blog Posts
Thoughts on life, writing, art, and health.
Dry Erase Board
Another Display of Self-care
Mental illness is not pretty. It's not something poetic, or artistic, or intelligent. The symptoms of mental illnesses vary, depending on the disease, but most have an effect on mood, emotion, physical health, and behaviour. These symptoms are chronic and have varying degrees of severity, which can change throughout the day or from day to day.
I was diagnosed with complex posttraumatic stress disorder in 2014. I've been treated for bipolar (type 2) since mid-2017. Much of my life before the treatment, therapy, and diagnoses has been a battle with being normal. A lot of the battle includes maintaining my existence—more commonly known as self-care.
Self-care is generally defined as behaviour or activities that benefit an individual's health, which they can undertake on their own. It's easy to think about, but incredibly difficult to do.
Self-care can be chores or "simple" hygiene habits, like:
cleaning your room
making the bed
doing laundry
eating
dressing into clean clothes
bathing
brushing teeth
Most people think of medication or drugs when they think of treatment for mental illness. Pharmaceuticals are one of the many ways someone with mental illness, like myself, can manage their disease and live a (somewhat) normal or balanced life. They aren't a simple quick fix. They're just another tool in the toolbox.
Self-care can also be something provided by someone else, but remain the responsibility of the individual to actually engage in. Social support networks, such as friends, family, and health professionals, can be self-care to an individual.
Holly and Nicole, two best friends, are each other's support. Nicole says "Since being at [post-secondary] school, I have met some of the most amazing people who have supported me and helped me through terrible times. Without them, I would never have made it this far." Her room mate and best friend Holly mirrors this sentiment: "My best friend Nicole has helped teach me to love myself for who I am. She loved me when I couldn't love myself."
Nicole has a tattoo of a semicolon on her wrist. Nicole has suffered from chronic depression and anxiety for four years. She has tried to commit suicide twice and thankfully never succeeded.
Project Semicolon is a non-profit dedicated to preventing suicide. Their symbol (the semicolon) represents the continuation of life when one wants it to end.
Our work is based on the foundation and belief that suicide is preventable and everyone has a role to play in preventing suicide. Through raising public awareness, educating communities, and equipping every person with the right tools, we know we can save lives.

Project Semicolon, About the Project

Project Semicolon is one of many organizations that works to end the stigma against mental illness, and also serves as support for mentally ill people.
Our environment and certain spaces can harm our mental health, or contribute to our self-care. A recurring theme I found when investigating self-care spaces was the abundance of visual reminders, handwritten and displayed on walls or doors or boards; or photographs and pretty pictures to brighten the space.
The note in focus says, "If I am worth anything now, I am worth something later; for wheat is wheat even if people think it is grass in the beginning," attributed to Vincent Van Gogh. Van Gogh was a fellow artist who, during his life, suffered through mental illness. This quote reminds me that my worth is constant, even if my growth is in stages.
One of the spaces I explored was the counselling offices at my school. Although I've gone through counselling services (at another school), for some reason I walked into the space expecting something clinical.
But they were inviting. The furniture was clean and colourful. Beautiful artwork hung on the walls. Personal photos of pets and families sat on the desks. Fake plants brought in the sense of nature without the possibility of allergies or wilting.
I knew the spaces were curated to contribute to mental well-being and self-care. It was just up to me, or anyone else with mental illness, to get to the space. The self-care can only happen if someone is there and participating.
My bedroom—with the bed, my piles of books, an arrangement of scented candles, and notes to myself scattered around—contributes to my self-care. The space itself is comforting, but what I do there is more important. I sleep. I read. I drink water. My mental health is not the sole product of my space or my actions. It's a combination of them.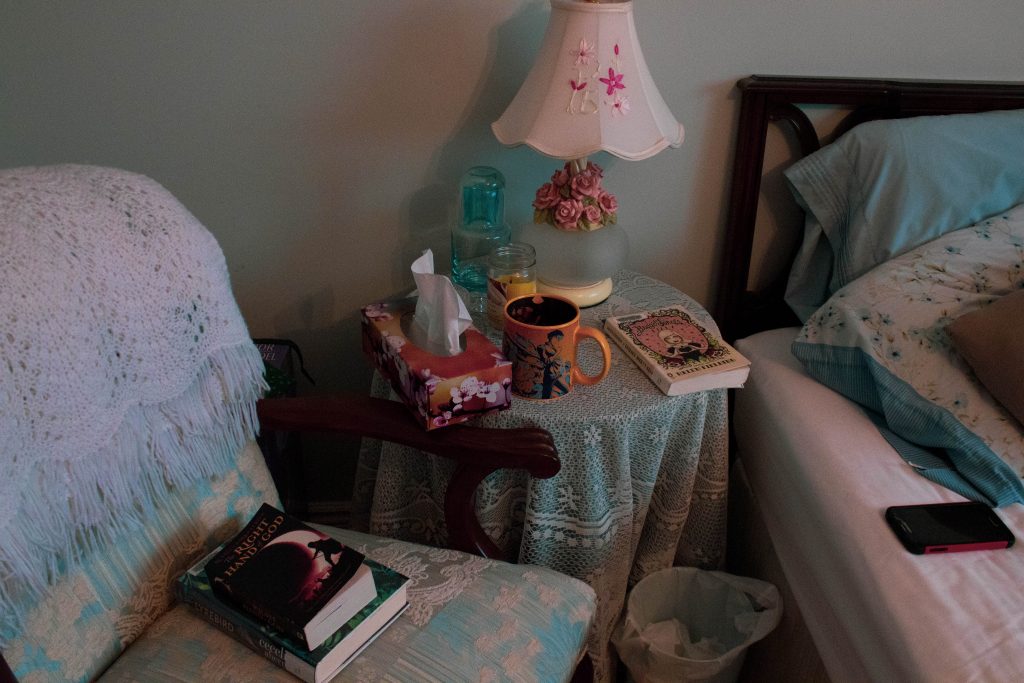 Holly doesn't really need a specific space, but when I met with her in the little studio in her student residence, I could tell she was peaceful. She has social anxiety and recently discovered she may have depression. When she started to dance, I admired her strength.
When I asked her what she considered self-care, she told me she had been dancing for most of her life. She says, "Dance is one of the only things that makes me feel comfortable in my own skin. It is a place I choose to be."
Self-care isn't only what we do, or where we do it, or who helps us with our wellbeing. It's never just about the space or the activity. It's about showing up and participating. Holly said it best: it is a place we choose to be.
---
Photographs © Coryl, 2018 | No part of this post may be reproduced without permission